Calendar of Events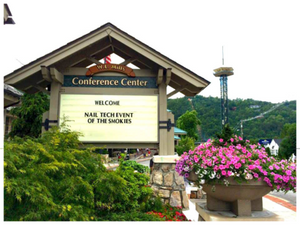 Nail Tech Event of the Smokies: June 29th - July 1st, 2019
Masterworks by Amy Becker will have a booth at the Nail Tech Event of the Smokies! We will be showcasing several new and exciting products and techniques. For show information, visit https://www.nailtechevent.com/
Gel Nail Architecture: The Future In Nail Art Design and Shape
Monday July 1, 2019
Day after the Nail Tech Event of the Smokies
Gatlinburg, TN
Enter the NEW WORLD of nail art design and sculpting with Masterworks by Amy Becker!
During this 7-hour training event, Amy will reveal Masterwork's new, never seen before, direction in Sculptured Nail Art Design and Structure.
Time: 8:15am-4:15pm
Where: Gatlinburg Convention Center
What to Bring: Table light, UV or LED light, towels, paper towels, 99% isopropyl alcohol, gel brushes, E-File (if you have one)
What is Provided: New World Gel Kit includes- 15g Mastergel, .5oz Masterbond, 10 Masterforms, Gel Polish and Paint samples with mixing pots, a "Special" E-File Bit, Stick Tips to practice on, electronic file with pictures and instructions for post class practice, Certificate of Achievement,
Class Size: We are limited to 30 professionals so register quickly! As we start posting more information and photos for this class, interest will spread like wildfire.
Investment: $350 on or before 6/1/2019. $425 after 6/1/2019
Other: Masterworks products will be available for sale during the class
In order to meet the deadline to provide this class for the Nail Tech Event of the Smokies, we are promoting this class without final details. We will send you complete details and sample designs of this class ASAP!
IMPORTANT!!!: Doors will close promptly at 8:20am. Those who have not arrived by then will forfeit their class and registration investment.
MASTERWORKS CANCELLATION POLICY: We do not offer refunds for cancellations but do allow transfers of registrants. If you need to cancel and cannot find another licensed nail tech to take your place, please let us know. We will gladly help you find a licensed nail tech to take your place when we are contacted by one.